Fun and Free! Resources for Our Readers
Added by Heather Idoni
Monday, March 25, 2013
==========================================================
Vol. 14 No. 4, March 25, 2013, ISSN: 1536-2035
==========================================================
(c) 2013, Heather Idoni - www.FamilyClassroom.net
==========================================================

Welcome to The Homeschooler's Notebook!

If you enjoy this newsletter, please recommend it to a friend!

Not a subscriber? Get your own subscription (and a FREE unit study!) here:

http://www.familyclassroom.net

And please visit our sponsors -- they make this publication possible! :-)

~~~~~~~~~~~~~~~~~~~~~~~~~~~~~~~~~~~~~~~~~~~~~~~~~~~~~~~~

58% Savings on Home School Enrichment Magazine!!

Home School Enrichment Magazine is the go-to source for real-life help for real-life homeschoolers! Need some new teaching ideas? You'll find them here. Want some cool educational projects for your kids? They're in every issue. Having trouble staying motivated? Encouragement and inspiration are what HSE does best! In short, Home School Enrichment Magazine is everything you need to supercharge your homeschool, all from a Christian perspective. Sign up now for your own discounted subscription - you'll be glad you did!

Get a one-year, 100% satisfaction guaranteed subscription for only $15.00!!

www.homeschoolenrichment.com




~~~~~~~~~~~~~~~~~~~~~~~~~~~~~~~~~~~~~~~~~~~~~~~~~~~~~~~~


=================
IN THIS ISSUE:
=================
Notes from Heather
-- Gregg Harris Workshops
Winning Website
-- MathPlayground.com
Helpful Tips
-- Highlights Hidden Pictures
Reader Question
-- Fitness for Boys
Additional Notes
-- Newsletter Archives
-- Sponsorship Information
-- Reprint Information
-- Subscriber Information



====================
Notes from Heather
====================

Free Gregg Harris MP3 Downloads!


Dear Readers,

Each month in 2013 Gregg Harris is giving away one of his downloadable resources. This month he is offering his Family Business Workshop, which includes the following session topics:

1. The Biblical Basis for Family Business
2. How to Start Your Family Business
3. The Marks of a Christian Business
4. Home Banking & Strategies to Avoid Debt
5. Proven Business Ideas You Can Start
6. How to Find & Keep Customers
7. How to Manage Yourself & Your Time

If you are interested, bookmark this link below and come back each month for another free resource!

www.nobleinstitute.org/#/resources/freebies

Blessings!

Heather

---

Your feedback is always welcome! Just send your email to heather(at)familyclassroom.net

~~~~~~~~~~~~~~~~~~~~~~~~~~~~~~~~~~~~~~~~~~~~~~~~~~~~~~~~

ALEKS.com

One of our readers (also a personal friend of mine!), Pam Coffey in Michigan, had this to say about ALEKS.com:

"ALEKS is great! My son was struggling with math in a written textbook so we tried the one-month free trial of ALEKS. Now, He is enjoying math and learning more quickly than before!"

Find real success stories from the state where you live with this interactive map:

www.aleks.com/homeschool/success_stories

Take the free tour for homeschoolers and start your own FREE TRIAL of ALEKS.com! :-)

www.aleks.com/homeschool/tour





~~~~~~~~~~~~~~~~~~~~~~~~~~~~~~~~~~~~~~~~~~~~~~~~~~~~~~~~


==================
Winning Website
==================

MathPlayground.com

Here is a great website for all sorts of math games! I especially like the logic games. I got to level 12 of "Sugar, Sugar", but I was stumped at that point! If you complete level 12, let me know. Oh -- and give the kids a chance to try, too. ;-)






=============
Helpful Tips
=============

From Candace at Sonbeams.com:



Our heart's desire is to share the Word of God with children -- to plant those seeds and pray that He will water and cause them to grow and bear mighty fruit for Him.

The following products are now available at no cost:

For more info on what's now free on our website, as well as links to the products, visit www.sonbeams.com/2013/03/15/exciting-changes-coming."

-- Candace, www.sonbeams.com

Raising Up SON-beams For Him!

---

Highlights Magazine - Hidden Pictures

When I was young I enjoyed getting Highlights magazine in the mail -- and I'd open to the "hidden pictures" feature first thing! Just in case you didn't save all your magazines for your own children, Highlights is offering free printable PDFs of this fun page from the magazine. Here is one to print out now!

www.highlightsteachers.com/media/hfc/teachers/hidden_pictures/watermelon_0.pdf

You can find everything on this page -- printable stories, poems and crafts as well:

www.highlightsteachers.com/teachers-toolbox

---

Here is a free resource that was shared on our Facebook page this past week. You may find some of these lessons helpful in explaining individual high school level math concepts.

MATHguide.com

Mark K. writes, "All the high school lessons I offers on www.MATHguide.com are coupled with interactive quizzes to check for learning and understanding."

www.mathguide.com/lessons/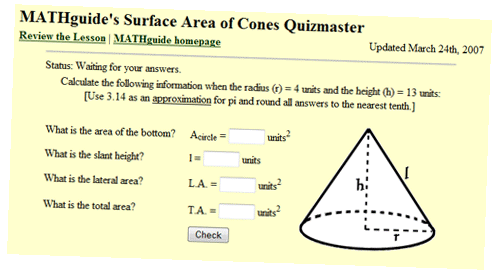 ===============================
Last Issue's Reader Question
===============================

"I would like some kind of exercising program going on for my boys. Workout or whatever you want to call it. Do you know of some video training or something I could get? I hardly know how to ask for what I'm looking for. I'd rather it didn't have scantily dressed ladies on it. I don't really want my sons to think they need to be macho but I want something to get them some exercise when it's too cold, rainy or whatever to do much outside -- or just something to get their hearts pumping in the mornings. I could do a Google search but I thought maybe you parents would have recommendations. What would you suggest?"

-- Marie

=================
Answers...
=================

"My experience: Boys don't 'do' exercise videos! They're either too immodest, girly, or over-the-top extreme. (Tony Horton is great, but too intense for kids. He's a great teacher, so maybe you could 'borrow and modify' some of his stuff for home use without the video.)

We're not a team sport family, but my boys and hubby fence, and we Scottish Country Dance. Otherwise, I just send them out to play dodgeball, four-square, ride bikes or scooters, run laps, hike, skate or play tennis.

Indoor sports: You could sign them up for racquetball, tennis, swimming, roller-skating, ice-skating, soccer, cross-fit for kids. Local clubs are usually very helpful in developing or providing special homeschool classes for off-peak hours (with a minimum number of kids).

For bad weather: push-ups, sit-ups, jump rope, mini trampoline, lunges etc. Create an indoor obstacle course! The kids can come up with their own ideas. Running/walking stairs is a great one!! Also good exercise: gardening, spreading mulch, washing/vacumming the car, scrubbing tubs, washing windows, re-arranging bedroom furniture, bookshelves, bins etc.

My boys' favorite is building barriers (with chairs, blankets, boxes etc.) and having rubber band fights (with protective eye gear of course!)!" -- Jane

---

"I'm not sure whether you have a Wii, or what age your boys are, but there are some great 'games' out there. Some of these include Outdoor Adventure and Wii Fit. Dance Dance Revolution games are good also -- but be sure it's one where you can change the dancers' outfits as some are are less than wholesome." -- Dawn in BC

---

"I recently got Family Time Fitness to do with my kids. It costs about $50 and is downloadable and scripted in an easy to use manner. The downloads also link to short videos of all the exercises so that you can see exactly how to do the activity.

My kids, ages 8, 10 and 13, have a lot of fun doing the activities -- and I have already seen improvement in skills. You can get a free two day sample of the lessons at the link below."

http://www.familytimefitness.com/

-- Cheryl in WA

---

"I would suggest one of the Just Dance discs for the Wii or Playstation or other gaming device (we have a Wii). They use an interesting format for their dance demonstrators... it's like a picture of a person. The variety of songs is great as well as skill level. They even have a personal workout section (Just Dance 4 is what we own). The kids get plenty of exercise and have fun too! Highly recommended!" -- Shari S.

---

"Family Time Fitness is a fun, blood-pumping program. While it's not video based, they do have short clips demonstrating the activities.

You could also check out exercise DVDs from the library to see what you like and what is appropriate. This will also provide variety. I have several of the Biggest Loser programs, which uses actual contestants. While they wear exercise clothes, they are not too revealing." -- Lacey W.

======================
New Reader Question
======================

"We are considering using Sonlight program next school year for our 11 year old son. He will be in the 6th grade. Can you tell me your positive/negative experiences with this program if you have used it? We'll be using Saxon math with it. Thank you!"

-- Tamara, HomeschoolingBOYS.com member

==================
Send YOUR Answer!
==================

Do you have experiences to share with Tamara? Please send your answer!

Email: hn-answers(at)familyclassroom.net

====================
Ask YOUR Question
====================

Our 13,000+ readers have a wealth of experience and wisdom. Would you like to have YOUR question featured in an upcoming issue? Please ask it! :-)

Send your email to: hn-questions(at)familyclassroom.net

==============================
Subscription Information
==============================

Here is the page where you can subscribe to our newsletter:

http://www.familyclassroom.net

And here is our searchable archive:

http://www.familyclassroom.net/archives.html

===========================
SPONSORSHIP INFORMATION
===========================

There are opportunities for your business to be a sponsor of this newsletter! Read more about our VERY AFFORDABLE advertising here:

http://www.homeschooladnetwork.com/homeschoolersnotebook.php

=====================
ADDITIONAL NOTES
=====================

All contributed articles are printed with the author's prior consent. It is assumed that any questions, tips or replies to questions may be reprinted. [Occasionally your contribution may have to be edited for space.]

Feel free to send any contributions to: HN-ideas(at)familyclassroom.net.

Our main website is:
http://www.familyclassroom.net

===========================
REPRINT INFORMATION
===========================

No part of this newsletter (except subscription information below) may be copied and/or displayed in digital format online (for instance, on a website or blog) without EXPRESS permission from the editor. Individuals may, however, forward the newsletter IN ITS ENTIRETY to friends or groups via email. For reprints in paper publications (homeschool support group newsletters, etc.) please direct your request to: Heather(at)FamilyClassroom.net.